Assistant Director Matthew S. Miller,
Office of Protective Operations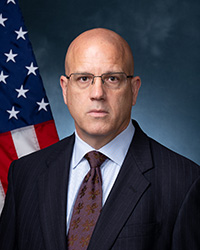 Matthew S. Miller, a native of Hazelton, Pennsylvania, currently serves as assistant director (AD) for the United States Secret Service Office of Protective Operations.
With 24 years of experience involving criminal investigations and protective security, Miller began his Secret Service career as a special agent in the Miami Field Office. Other assignments include service with the West Palm Beach Resident Office, Counterfeit Division, Presidential Protective Division, the White House Homeland Security Council, Washington Field Office, Office of Human Resources and Training and Dignitary Protective Division.
In April 2011, AD Miller was promoted to assistant special agent in charge and assigned as the federal government's National Special Security Event coordinator responsible for all interagency planning and coordination for the 2012 Republican National Convention in Tampa, Florida.
In February 2013, he was credentialed as an assistant attaché to the U.S. Embassy in the Republic of Italy, where he served as both assistant special agent in charge of the Rome Field Office and economic officer.
Between 2017 and 2019 Miller served as a deputy assistant director for the Office of Protective Operations, with a portfolio covering budget and special projects, as well as presidential and vice presidential protection. From 2019 to 2021, he led the Secret Service Washington Field Office.  In May of 2021, he was selected to serve as the assistant director for the Office of Intergovernmental and Legislative Affairs. 
AD Miller earned a Bachelor of Science degree from Georgetown University's Edmund A. Walsh School of Foreign Service in Washington, D.C., and a Master of Science degree in National Resource Strategy from the National Defense University's Industrial College of the Armed Forces.