Chief Operating Officer
Cynthia Sjoberg Radway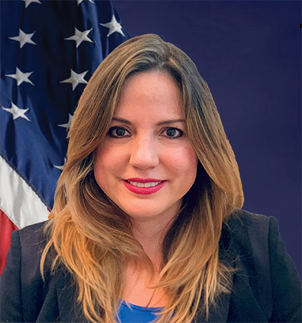 Cynthia Sjoberg Radway joins the U.S. Secret Service as the component's chief operating officer, bringing nearly 20 years of federal government service to the agency. She comes to the Secret Service from the Department of Justice's (DOJ) Office of the Inspector General (OIG), where she served as the deputy assistant inspector general for the Management & Planning Division. In this role she managed day-to-day operations for a range of OIG's support functions, including financial and human capital management; diversity, equity, inclusion, and accessibility (DEIA); training; personnel and physical security; facilities and property management; procurement; executive resources; resource planning and budget; records management; and internal controls. A champion of business process improvements, she leveraged technology to enable efficiencies and effectiveness, and strengthened business case justifications resulting in significant budget increases. These achievements impacted OIG's mission by greatly enhancing the overall business operations.
Prior to her tenure with OIG, Ms. Sjoberg Radway served as director of the policy and planning staff in DOJ's Office of the Chief Information Officer (OCIO), driving solutions by providing strategic direction for the implementation of the approximate $3B budget for DOJ's IT portfolio. There she provided programmatic direction including modification, curtailment, elimination and expansion of programs and activities. Additionally, she managed OCIO's $500M working capital fund.
In a previous role with the Secret Service, a deputy component acquisition executive, Ms. Sjoberg Radway worked closely with stakeholders from throughout the agency to identify mission critical programs, assess their execution and delivery, review resource requests, prioritize action and evaluate financial decision-making platforms. She led a renewed effort on business process improvement with a particular focus on bottom-up ownership of programs and projects. Ms. Sjoberg Radway's holistic approach to managing total program cost and mission impact led to the development of a business case model to complete program justifications for funding and resulted in significant program funding increases.
Before that, Ms. Sjoberg Radway led significant programs in other DHS organizations. As the associate chief within the Verification Division of U.S. Citizenship and Immigration Services, she led the agency's modernization of immigration programs. Her work centered on leading the multi-billion dollar SAVE and E-Verify verification modernization programs, focusing on scalability of technology to support increased demand and ensuring the agency provided trusted, relevant and timely identity and immigration status information. Through rigorous analysis, her efforts resulted lifecycle cost savings of $800M and technology that supported a fivefold increase in caseloads.
As chief of the department's Identity Management Division, Ms. Sjoberg Radway headed the implementation of the highly visible Homeland Security Presidential Directive-12 (HSPD-12). Under her leadership, it became the first DHS-wide service program. She led departmental and interagency efforts and cross-component teams that developed an enterprise technology solution, established common policy, developed contract vehicles resulting in multi-million-dollar cost savings and developed the HBSD-12 deployment plan. These considerable efforts led to the successful issuance of DHS PIV cards to more than 250,000 personnel nationwide, securing the department's networks and physical access.
Before joining the federal government, Ms. Sjoberg Radway worked for Continental Airlines as a corporate security manager and investigator, where she was directly responsible for aspects of security operations for international flights at George Bush Intercontinental Airport in Houston, Texas, as well as the Latin American region. Her responsibilities required working with foreign governments on risk-based enforcement policies, as well as bilateral agreements and international information sharing.
Ms. Sjoberg Radway received her Bachelor of Science and Master of Arts degrees from Johns Hopkins University.