Assistant Director Ronald L. Rowe, Jr.,
Office of Intergovernmental and Legislative Affairs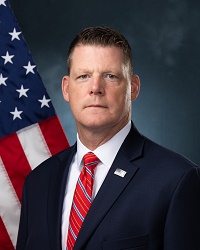 Ron Rowe serves as the Assistant Director for the Office of Intergovernmental and Legislative Affairs, leading the Secret Service's engagement with Congress, the Department of Homeland Security, and other government partners at the federal, state, and local levels. Mr. Rowe's previous executive experience within the agency includes serving as the Chief of Staff to the Director (2021), Deputy Assistant Director for the Office of Protective Operations (2018-2021), and as the Deputy Assistant Director for the Office of Intergovernmental and Legislative Affairs (2017-2018).  
Mr. Rowe also served as a National Special Security Event (NSSE) coordinator for a major Secret Service security operation in 2016, managing and overseeing the operations of a multiagency public safety force comprising 7,000 federal, state, and local personnel supporting the NSSE. In 2013, Mr. Rowe was selected for a joint-duty assignment to the National Intelligence Council, where he led the development of several analytic products that were considered to be the U.S. intelligence community's most authoritative assessments of major cyber challenges and threats affecting national security interests.
In 2011, while at the Executive Office of the President, Mr. Rowe worked in concert with the National Security Council as a National Security and Law Enforcement Policy Advisor, developing the President's strategy to mitigate state-sponsored economic espionage. Other assignments throughout his career include selection as a Secret Service congressional fellow detailed to the staff of the U.S. Senate's Committee on the Judiciary from 2008-2011, where his portfolio focused on counterterrorism, criminal justice reform, and national security legislation. In 2004, he was selected for assignment to the Secret Service Presidential Protective Division. 
Mr. Rowe entered public service 26 years ago as a police officer with the City of West Palm Beach, Florida. He attended the University of Maryland, earning a Bachelor of Arts in Criminology and Criminal Justice (1994), and a Master of Science in Administration from Lynn University in Boca Raton, Florida (2007). He is also a graduate of the Naval Postgraduate School's Executive Leaders Program in Homeland Defense and Security at Monterey, California (2019).