2020 Year in Review
In so many ways, 2020 was a year unlike any other in the long, proud history of the United States Secret Service.  While much of the world was adjusting to life at home, face coverings and social distancing, the men and women of the Secret Service answered challenge upon challenge, navigating the simultaneous difficulties of staying safe and effectively executing our dual, integrated mission. This compilation of achievements is a look back through this year, from the presidential campaign to catching child predators to combating cybercrime, and doing it all amid the most devastating public health crisis to hit our shores in more than 100 years.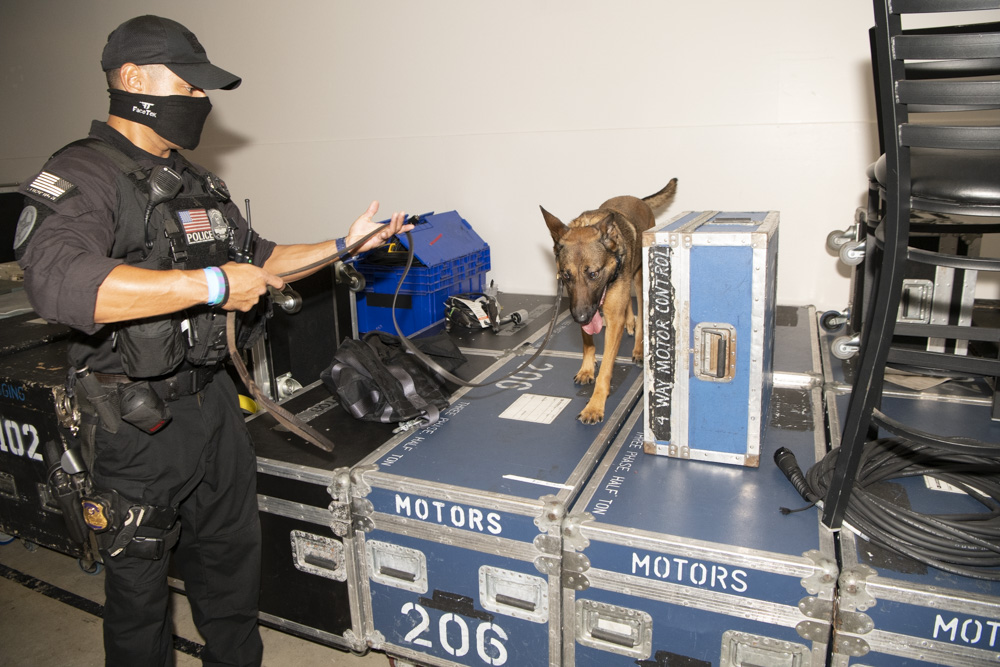 No event exemplifies the zero-failure posture of the Secret Service's protective mission as clearly as a presidential campaign and the election of our national leaders.  From the earliest caucuses and primary elections to election day and inauguration, the men and women of the Secret Service ensure the safety of the those running for and holding the highest elected offices in the United States.
During the 2020 campaign, Secret Service oversaw 567 protectee visits and screened 46,972 people

The Secret Service plays a critical role in protecting the democratic process by securing both the candidates and elected leaders, as well as the continuity of government. We do not work alone, however. Candidate protection is a significant undertaking that requires the support of federal, state, and local partners.

Throughout the 2020 campaign season, Secret Service employees and partners achieved their mission flawlessly.
Investigations by the Numbers
---
For calendar year 2020
Amount of criminal proceeds seized by Secret Service 
Number of hours of financial and electronic evidence analysis, geospatial and criminal research conducted by Secret Service analysts
Number of counterfeit Federal Reserve Notes seized
Throughout the year, COVID-19 has washed over the country in waves, impacting millions of families and devastating countless businesses as states continue implementing a range of restrictions to slow the transmission of a virus which claimed more than 300,000 American lives as of mid-December.
Unfortunately, it is a time when fraudsters and other criminal organizations seek to take advantage of people desperate for help.
The men and women of the U.S. Secret Service continue protecting our Nation from criminals. We are working in partnership with numerous federal, state, local, tribal and territorial law enforcement agencies on deterring, preventing, investigating and prosecuting criminals responsible for COVID-19-related fraud. The Secret Service also continues to partner with industry and academia, which is instrumental in identifying and reporting fraudulent activity.
In addition to the exemplary work of Assistant to the Special Agent in Charge Roy Dotson (see below), the Secret Service worked closely with state and local law enforcement partners to disrupt criminal schemes involving the Small Business Administration's Disaster Loan Program to the Payroll Protection Program provisions of the CARES Act just to name a few.
 6,000 
Did you know? In 2020, our digital forensics examiners conducted more than 6,000 forensic examinations of seized electronic devices and our network intrusion responders were called out to more than 500 network and data breaches. Learn more
The Secret Service, United States Attorney Russell Coleman, Kentucky Attorney General Daniel Cameron and the leadership of other Internet Crimes Against Children Task Force agencies announced the culmination of "Operation Gabbi Doolin." This joint federal, state and local operation was aimed at exposing child predators in Kentucky communities. The operation was named in honor of Gabbi Doolin, a 7-year-old child from Scottsville, Kentucky, who was kidnapped and murdered from her brother's youth football game in Allen County in 2015.
This year, the Secret Service hosted three virtual Cyber Incident Response Simulations with state and municipal government officials and our private sector partners focused on ransomware attacks and business email compromise (BEC) schemes. The virtual events were aimed at the agency's Cyber Fraud Task Force (CFTF) partners. The trainings offered executives who play an active part within their organization's cyber incident response a simulated scenario to enhance planning, collaboration and information sharing between private organizations and the Secret Service. Event participants in each scenario worked through a uniquely designed cybercrime crisis role-play simulation to gain a better understanding, experience and knowledge of how to efficiently and effectively respond and partner with law enforcement.
Secret Service's National Threat Assessment Center (NTAC) released "Mass Attacks in Public Spaces 2019," an annual report examining acts of targeted violence across the U.S. The report examines 34 attacks in which three or more people were injured or killed between January 1 and December 31, 2019. These attacks were carried out by 37 attackers, injuring a total of 175 people and killing a total of 108. "The Secret Service's research and informed work in this space is critical as we continue to grapple with targeted acts of violence," said U.S. Secret Service Director James M. Murray. "Research of this nature helps us remain one step ahead of the next tragedy. Our findings assist in the implementation of prevention plans to identify, assess and intervene before a potential attacker has the motivation and opportunity to act. I commend the researchers and staff of our National Threat Assessment Center who spearhead this important work for the nation."
During the week of July 6, Standing Post, the Secret Service podcast, began its third season. The new season's first episode featured Thomas Sullivan, Chief of the United States Secret Service Uniformed Division, including highlights of Chief Sullivan's storied career and showcasing his dedication to the law enforcement professionals who make up the Uniformed Division. The episode marked the podcast's 23rd monthly installment, taking audiences behind-the-scenes and into the lives of a Secret Service employee, who share the experiences and  challenges of their career. Episodes range from a two part-series with Secret Service legend  Clint Hill; to learning the groundbreaking story of the Secret Service's first female motorcycle officer, Officer-Technician Alta Gunawan. To listen to the show, visit us at www.soundcloud.com/standingpost, or visit any major podcast site such as Apple or Google.
Recognizing the increasingly similar characteristics of cyber and traditional financial crimes, Secret Service formally merged its Electronic Crimes Task Forces (ECTFs) and Financial Crimes Task Forces (FCTFs) into a single, unified network now known as the Cyber Fraud Task Forces (CFTFs). The CFTF is an evolution of the original ECTF and FCTF models, reflecting the convergence of these investigative responsibilities toward a single mission – to prevent, detect and mitigate complex cyber-enabled financial crimes, arresting and convicting the perpetrators responsible.