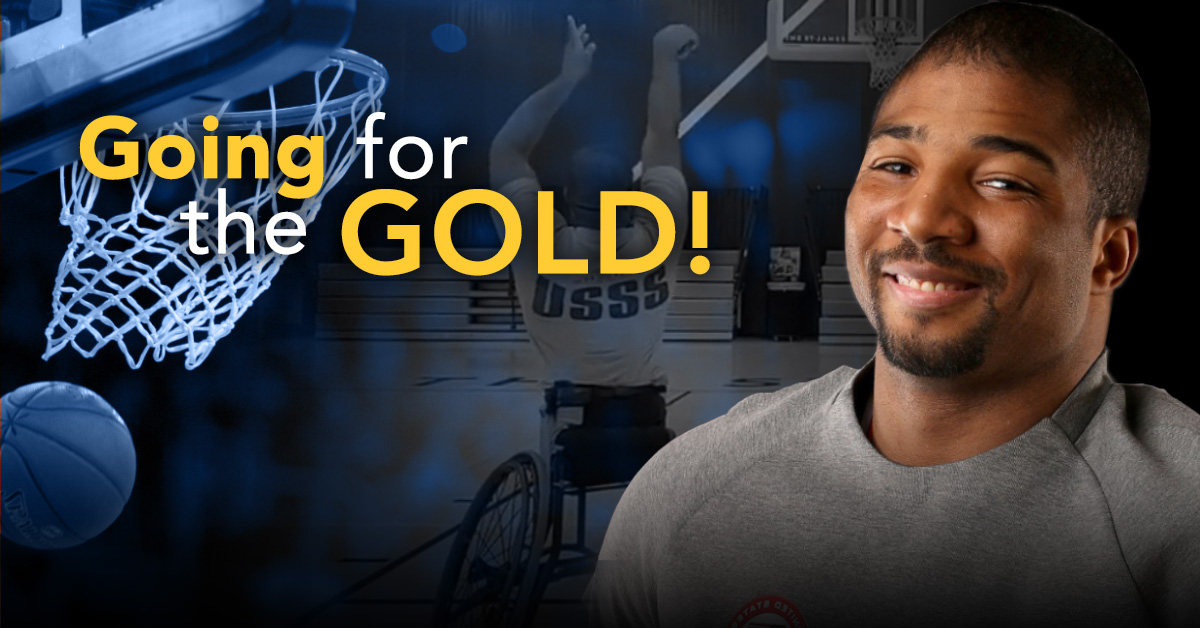 The Secret Service's own Personnel Security Specialist Trevon Jenifer of the Security Management Division (SMD) is going for gold this summer as a member of the 2020 U.S. Paralympic men's wheelchair basketball team. The Paralympic Games is a major international sports competition for athletes with disabilities. 
"This is an honor," Jenifer said. "Some people don't get this opportunity one time and they train their entire lives for it. I've just been blessed that this will be my third games."
Jenifer was also a member of the London 2012 and Rio 2016 USA wheelchair basketball teams where he won bronze and gold medals.  After being postponed due to the pandemic, the 16th Summer Paralympic Games will take place in Tokyo from August 24 through September 5, 2021. 
Jenifer was born with a disease called congenital phocomelia which caused him to be born without legs. After watching his siblings be involved in various sports, Jenifer began playing wheelchair basketball at the age of 4 with teams in the Washington metropolitan area. In his younger years, he was also a successful track athlete and, in high school, an accomplished wrestler. In 2009, Jenifer got his first glimpse of Team USA after making the junior national team. He qualified for his first national team right after graduating college and made his Paralympic debut a year later in London.
"When I got to college and was able to see what the next level was like with being able to travel to these different countries and continents, I thought, 'I have to take advantage of this.' Now it's been about 12 years on the national team. It's been a really awesome experience," said Jenifer.  
Jenifer has the unique experience of serving his country by working for the Secret Service and representing his country as a Paralympic athlete. He first learned about the opportunity to join the Secret Service while attending an event for individuals with disabilities and is approaching his one-year anniversary in September. 
"This has always been my dream agency to work with," Jenifer said. You are representing so much more than yourself when you are out there playing. You are representing your family, the organization, and the agencies we are working with. It's an awesome feeling to know that you have that behind you. Working in SMD is an awesome experience. The people I work with are phenomenal and they make the job easy."

 

When he and his teammates go out there and play well, Jenifer added, it is a testament to all the people that have supported them, including his Secret Service colleagues.  
"Since joining the Secret Service, Trevon has brought into our workforce the same work ethic and teamwork mindset that has made him an extremely successful USA Paralympic athlete," said SMD Chief Michael Mullen. "He is an extraordinary person and incredible employee, and we are very proud to have Trevon as a member of this agency and, more specifically, the Security Management Division." 
"We can't wait to watch him represent Team USA's basketball team during the upcoming Paralympic Games in Tokyo, Japan," he said. 
In preparation for the Tokyo games, Jenifer woke up at 4:30 a.m. to go to the gym before helping get his children ready for the day and reporting to work. After dinner and spending time with his family, he went to his home gym around 10:00 p.m. before repeating this schedule the next day. He credits his wife and two children as his motivation through it all. 
"What I'm most looking forward to at this Paralympic Games is taking the court with my teammates again and representing Team USA. We are excited!"  
When Jenifer is not playing, working, or spending time with family, he continues to inspire others through motivational speaking. 
Click here to view the competition schedule to watch Jenifer and his teammates go for the gold during the 2020 Tokyo Paralympic Games!