It's not often that Secret Service employees are asked to participate in birthday celebrations.  But then again, it's not every day that a World War II hero turns 100.
Ken Potts, one of the two living survivors of the December 7, 1941, attack on Pearl Harbor and the USS Arizona, celebrates his centennial birthday today.  Potts joined the Navy in 1939 at age 18. In 1941, he was aboard the USS Arizona when it was attacked at Pearl Harbor.  More than 1,000 Sailors and Marines lost their lives in the sinking with only 335 surviving.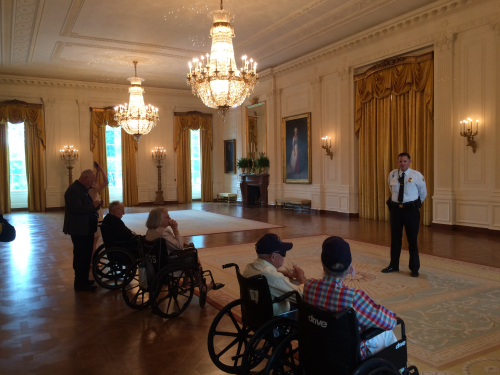 The connection between Potts and the Secret Service begins four years ago when the veteran and two other survivors visited Washington, D.C. to commemorate the 75th anniversary of the attacks and the subsequent U.S. entry into the war. 
Part of the visit included tours of the Pentagon and White House and a meeting with President Donald Trump.  It was during the White House tour that Potts was able to spend some time with Uniformed Division Officer Sgt. Jonathan Stockeland.
A Marine Corps veteran and grandson of two World War II veterans, Stockeland volunteered to conduct the 2017 tour. Stockeland was able to share memories and laughs with the veterans during the tour, which concluded in the White House Map Room, symbolic because it is where President Franklin Roosevelt would receive daily briefings throughout the war. 
"Giving those gentlemen that tour was the honor of a lifetime and the highlight of my career with the Secret Service" said Stockeland. "I wanted to do whatever I could to make Mr. Potts' day special."
Stockeland and the Potts family have kept in touch since the tour and it's why they reached out to the officer asking if he would be willing to record a birthday message to Potts. The Officer recorded his video on Pennsylvania Avenue in front of the White House last week and Potts was able to view it today during his birthday celebration in Provo, Utah.  
"That day was one of the great privileges of my career, and it is also a privilege to wish you a happy 100th birthday! I am thankful that men like you are still around to tell your stories, and to inspire so many generations after you. Happy Birthday!" Stockeland shared with Potts. 
In his typical low-key humble way Potts didn't know what all of the birthday fuss was about. "I don't know what the big deal is, I've had plenty of birthdays before," he said to family and friends.  
Reflecting on the tour and his time with Stockeland, Potts shared that "the Secret Service was mighty nice to us" during that special tour of the White House.
Happy 100th birthday, Mr. Ken Potts, from all of your friends at the Secret Service.